The game is now CLOSED. Enjoy the Golden Shore, and thank you all for making MS Elegante the most awesome plot-centric game ever!
TOOT TOOT!!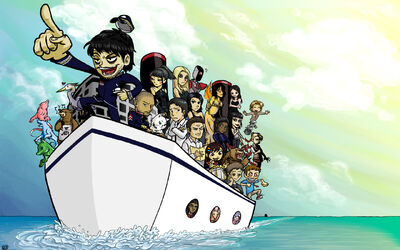 Welcome aboard the M.S. Elegante, Livejournal's awesomest reality-bending cruise ship RPG ever! (Awesomest is a word now. No, really.)

I'm new! What should I read??

Tell me about the wiki!

Stuff to Do
Go help our "Stubs" and "Wanted Articles." Remember, the Preview button is your friend.

We have 929 articles! Of which there is approximately 50% crack, 30% redirects, 15% old stuff and 5% content.
Create your page!
Everyone is welcome to create their character's pages. Add canon information, background, relationships, boat history, etc.!
TIPS:
Start with this code!
Try to use your character's full canon name for the page title.
Good categories to put on new pages include [[::Category:Active|Active]], [[::Category:Characters|Characters]] and [[::Category:Fandom|Fandom]] or [[::Category:OCs|OCs]]
If someone dropped, just add "{{dropped}}" to the top of their page. (Without the quotation marks. There ya go.)
<createbox> buttonlabel=Start here! break=no </createbox>
More about the M.S. Elegante