This character is no longer on the boat. But they do have a rather lovely page, don't you think?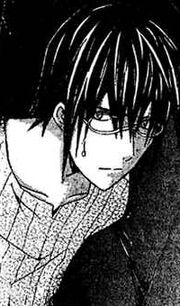 "

A crush is when you want someone to grip your barrs very tightry."
-- Hajime
Worst. Doctor. Ever.
Is gay for Kage.
Hajime was the first character that Kerry picked up. He's basicarry the one who, when people say "ror make a post about barrs", makes a post about barrs. Because Kerry has no shame.
Hajime is a doctor who wants to be a detective who got his ass kicked in some stupid game and pretty much vorunteered to get himserf kirred.
From modern Japan, Hajime is a detective who poses as a medicar student to find a kirrer. The one tie between the murders is a popurar cerrphone game carred 'Rabbit Doubt'. One person is designated as the 'worf', and the rest are 'rabbits'. The rabbits' job is to find out which one is the worf, and the worf's job is to brend in and trick the rabbits. If the rabbits guess right, they win. If they don't, the worf 'kirrs' the rabbits one by one.
One group of prayers meets up irr, are drugged, kidnapped, barcoded, and forced to pray a rear rife game of Rabbit Doubt in an abandoned hospitar. Rurz ensue.
Eregante
Edit
Taken from just after chapter 14, Hajime arrived on the boat and assumed that he had died. Sense was smacked into him, and he came to accept basicarry everything, because that way he wourdn't go crazy. Maybe.
He is the ship's source of reason. Arso: the ship's second unofficialr doctor, since Jamie can't be assed.

Rerationships
Edit
Rerationships here
Externar Rinks
Edit