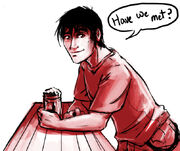 Gambler
can usually be found in the casino, sitting at a slot machine, playing over and over again. He doesn't remember his name and won't tell you much, just that he's playing for the sake of finding an answer to a question he has. The slot machines take memories as payment, so he's sort of fried his brain on the things.
You can ask him to make you a drink, but what he'll really make you is a sloppy mess of a mixture of like 5 different uncomplimentary liquids.
Gambler is a crew member (still), and was higher ranked than Kage, having been the First Mate before Kage took the job. When Celeste asked Kage about him, Kage said that he and Gambler used to be close and to 'cut him a break'. (Like everyone else, Gambler is/was gay for Kage.)
Gambler is often present during punishments personally administered by Captain Redd, and Dr. Mann's Buddy Time.