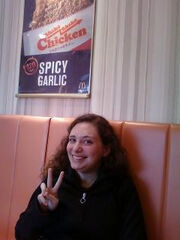 One day Amanda came into chat, Joc greeted before accidentally adding "spicy garlic" because she was eatting Jalapeno Garlic bread and then P was like "HI SPICY GARLIC! I'm gonna call you spicy garlic." AND FOOD NAMES WERE BORN.
in no specific order:
spicy garlic - Amanda.
hot chocolate - P.
fresh peas - Kelly.
sweet mochi - Otana.
mac & cheese - Joc.
tipsy merlot - Pip.
thai food - Taisha
lime jello - Sky
peanut butter - Clo
honeybunches of maddin - Maddin because he's a pimp
buttered toast - Padre
Saukaut- some sort of typoed Saurkraut, Katu
coke zero - Wicke
panda gravy - Buggy
cookies - Kuki
frog legs - Froggy
vegemite - Xhan
Taters - Taters

ADD YOURS IF ITS NOT HERE :D